Consulting - ECA projects
We calculate and maximize the size of export finance loans, document financing eligibility, and help achieve financial closing.
Borrowers and exporters face the following challenges:
Not familiar with complex ECA rules for different countries
Difficult to decide among multiple exporters or suppliers for future procurements
Not able to complete certain documents required for financial closing
The project procurement does not contain enough eligible content to support the desired financing
We offer the following services:
Calculation of ECA eligibility
Development of ECA cash flow models
Probabilistic and scenario-based analysis of eligibility
Preparation of EXIM acquisition lists
Preparation of ECA financing applications on behalf of exporters
ECA-compliant RFPs and contracts
Implement ECA-compliant work processes
Procurement advisory
Export credit agencies:
We have experience and have worked with many ECAs around the world, including but not limited, to the following: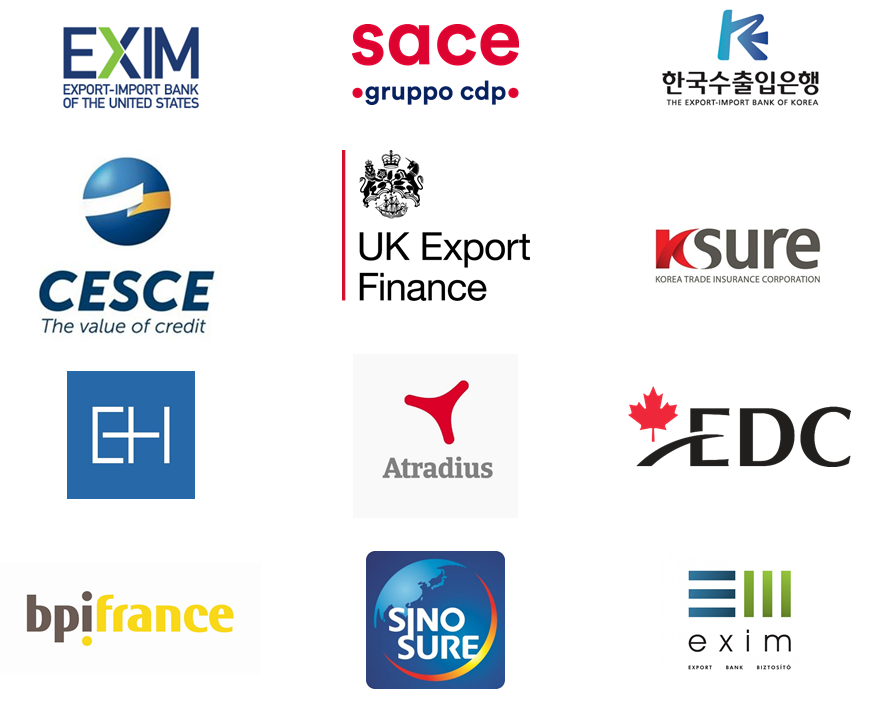 ---
Some of our recent consulting experience:
---
Oil and gas company:
Our customer, a large oil and gas company, was looking to obtain financing from different ECAs. The customer and its financial advisor needed help quantifying and documenting the ECA eligibility of its past and expected future procurement.
We analyzed hundreds of thousands of procurement data points, performed sensitivity analyses, and quantified and documented the ECA eligibility and financeable amounts.
We began our work by sitting down with the borrower and performing an organized review of its past procurement as well as of its future procurement plan, seeking to understand the origin of procurement horizontally (across procurement packages) and vertically (through the supply chain).
We worked with the borrower and its major suppliers to understand possible deviations in terms of scope, cost, schedule, and national origin of goods and services.
With this data, we developed an ECA eligibility model for the borrower, which calculates financing amounts for different ECAs and estimates ECA cash flows for a series of different scenarios.
Our financing eligibility models can be quite sophisticated. In this case, we incorporated a threshold calculation, which allowed us to work out with our customer the minimum size of procurement from a supplier for such procurement to be included in the ECA financing.
Considering the uncertainty in the volume and origin of future procurement, we also incorporated a Monte Carlo probabilstic analysis that allowed us to better estimate the size of financing for the customer.
The results of the model may be submitted to the ECAs to document financing eligibility.
The images on the right are samples of the type of reports we produce for our customers when we undertake this type of financing eligiblity analysis.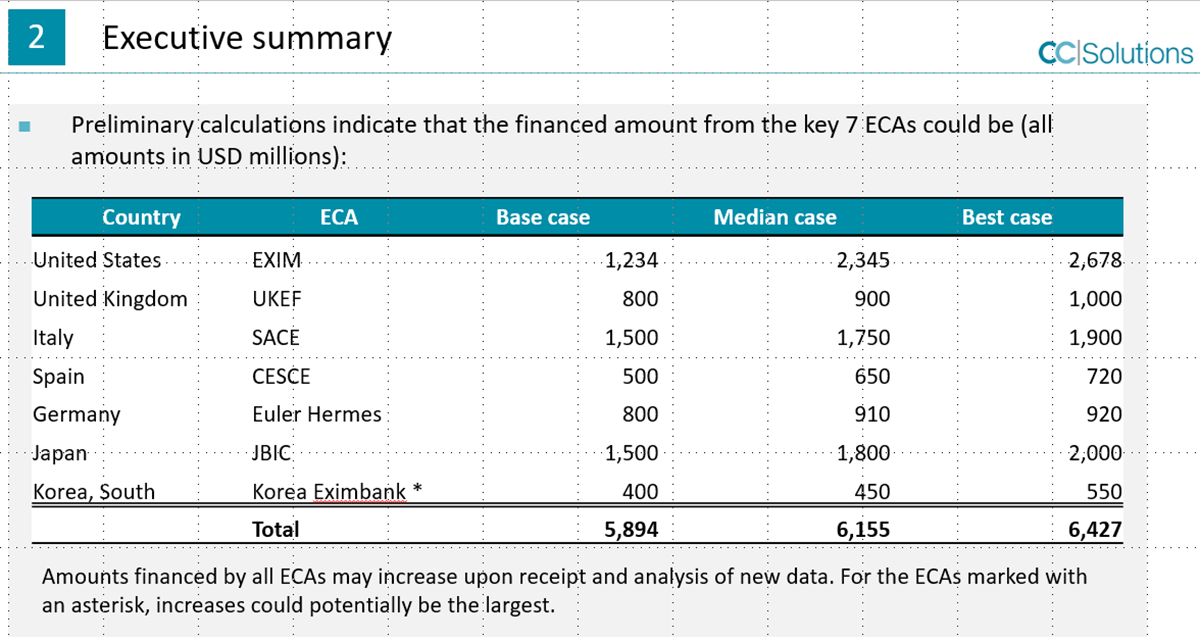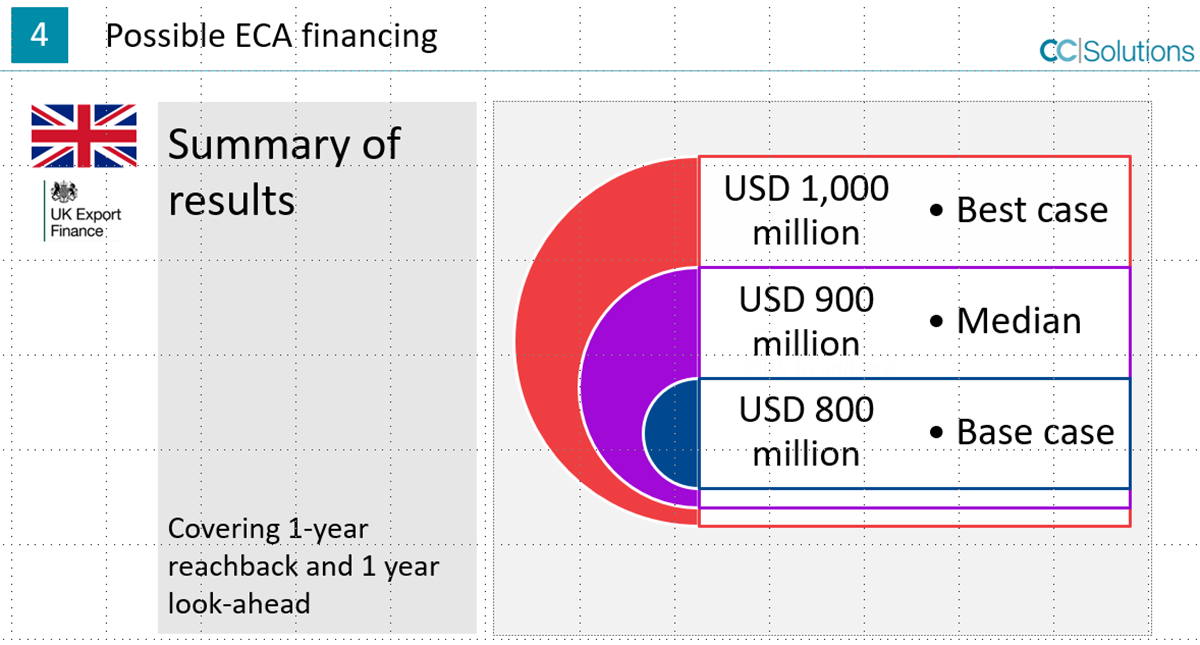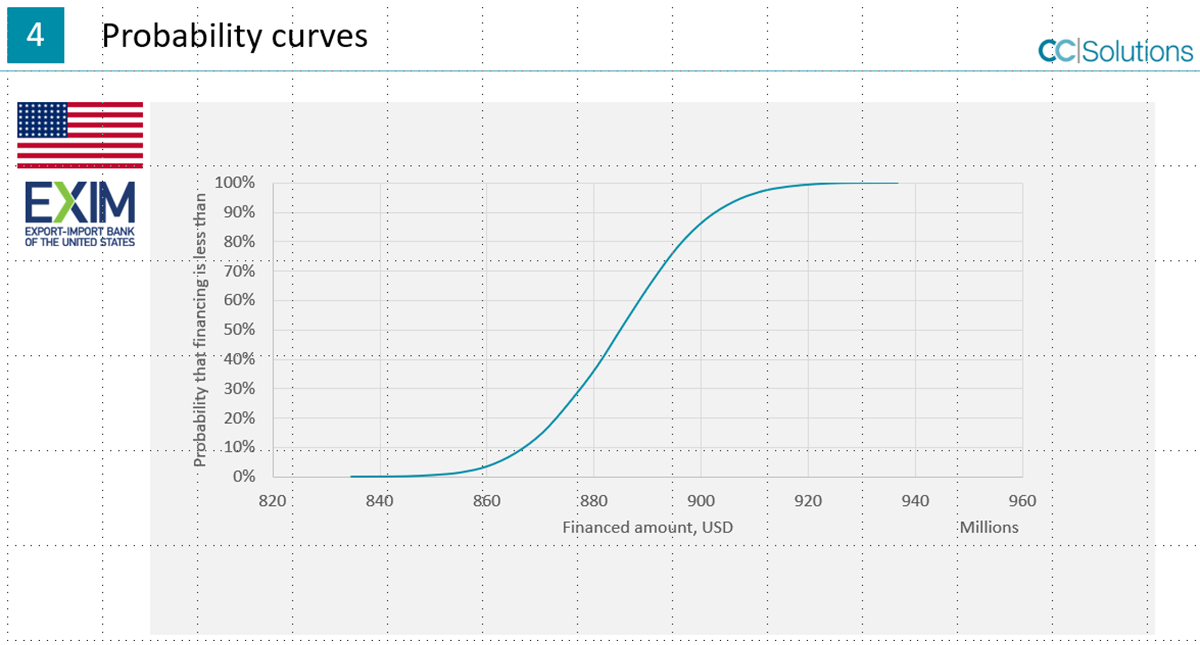 ---

New refinery project:
A major oil company company that was looking to build a new refinery hired us to help it and its financial advisor maximize the amount of financing available from the Export-Import Bank of the United States (EXIM) for its project.
After quantifying the amount of EXIM financing arising from direct procurement from the owner and the EPC contractor, we realized that the amount of EXIM financing was less than what our customer wanted to obtain.
In order to maximize the amount of financing, we proposed to act as consolidator for U.S. procurement, which increased the amount financeable by over 7.5%.
We also saw that it was very likely that the EPC contractor was unknowingly buying U.S. goods and services from its non-U.S. sub-suppliers. We undertook to identify and quantify U.S. procurement at different levels of the supply chain.
We secured confidentiality agreements from companies at different levels in the supply chain and worked directly with them to identify previously overlooked U.S. content.
By doing this work we were able to help our customer increase the size of its EXIM financing by over 30%. We went on to develop the EXIM acquisition list and managed its approval process in record time.
Considering the uncertainty in the volume and origin of future procurement, we also incorporated a Monte Carlo probabilstic analysis that allowed us to better estimate the size of financing for the customer.